We moved here in Sept 2006, and for the first year didn't really touch the garden. I'm a big believer in the wait-and-see approach when inheriting a garden for a full year, to see what delights might appear as the seasons progress.
The garden is dominated by a 21ft long garage, which we eventually intend to clothe in something less in-your-face. Another large feature is a pine tree of some description. It's pretty dull for most part of the year, but in the spring it has acidic green new growth, which to be honest is it's only saving grace.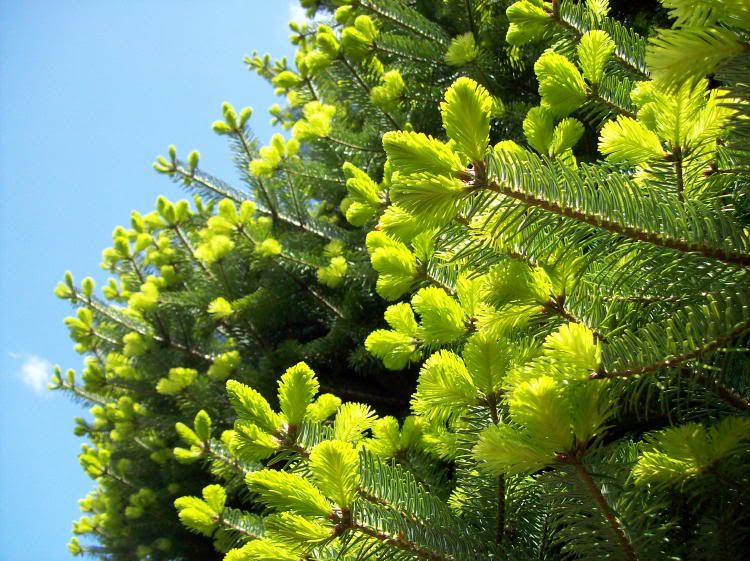 My first impressions of the garden was how green it was. I have nothing against the colour, but it was just different shades of green. The pine tree; the grass; the ferns; the confer hedging. Beautiful, but lacking some oomph.
The back garden was divided into three parts. The first a part paved, part tarmacked 'patio' with a wall and wrought-iron divider with matching gate down to the lawn bordered with a huge, and I mean HUGE conifer hedge which provides good privacy from our neighbour. Also in this central section is a large rockery with a variety of plants including a stunning ceanothus.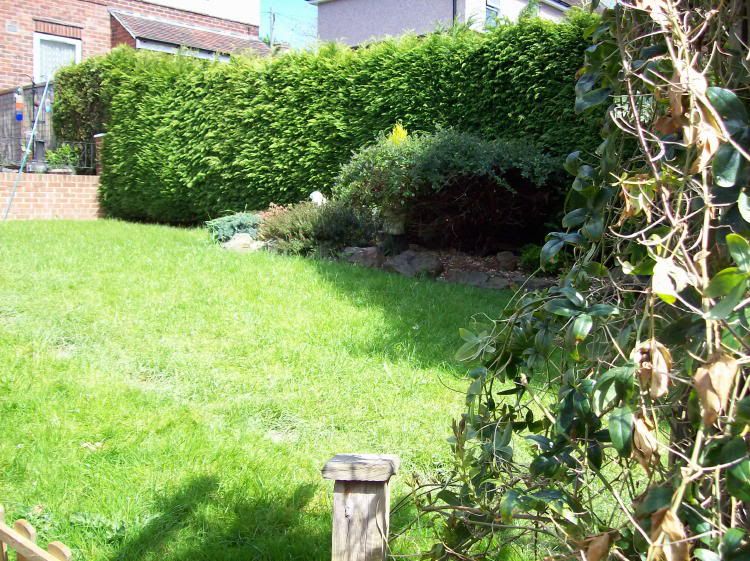 Make your way down the lawn and through an arch smothered in exotic-looking passiflora to the final part of the garden, part of which is hidden from the top of the garden by the garage. Here lies the 'pond' and some really large, healthy looking ferns. The biggest problem here is an outbuilding that once homed dogs. A pretty lilac drapes over the roof, and for the time being we used it to hang bird feeders from...which Mrs Nutkin was thrilled about.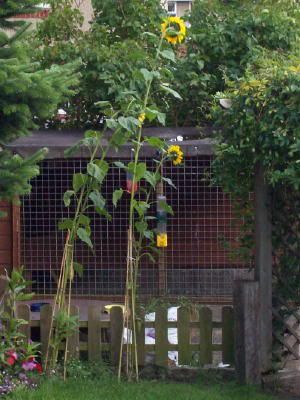 As Bumble Bee was still only small, we decided to fill in what must have once been quite a pleasant pond, but which resembled a dirty, pungent, square puddle, as we wanted the boys to have the freedom and safety of the back garden without having to be watched in fear of falling in.
The filling in of the pond took a whole lot more rubble, topsoil and compost than we had expected, but it provided a good planting space for the future, and for now, we popped in the Acer we had managed to bring with us from our previous garden, and a young cherry tree.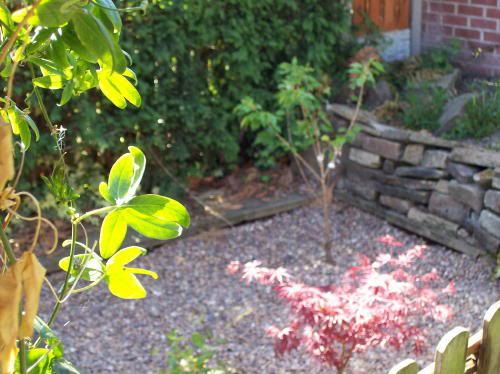 Beyond this new planting pocket is a rather overgrown rockery. It's built up to the back of the garage with york stone, but the soil is pretty poor, sandy in parts. This is where various unidentified ferns sprawl. A lower, narrow, dry-stoned raised area runs at right angles to this with a small saxifrage. The previous gardener thought about this patch in particular as it has a mulch of suitably graded grit. I think I will put this to good use in time and add other alpines.
As this was going to be a family garden, I thought it might be a good idea to grow some of our own food, and with this in mind, we made a patch for the boys to grow some of their own flowers and vegetables.
In this first year, as it was getting on a bit for time, the boys grew some sunflowers, and had a little competition.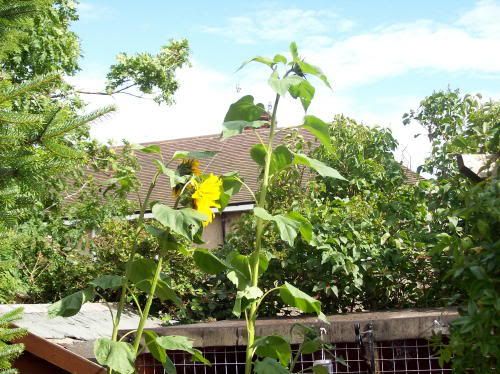 We did manage to bring some of the best plants from our old home, and it could be some time before they find their permanent homes, so for now they remain in containers on the 'patio'
The Front Garden is a whole different kettle of fish.
The driveway takes up most of the space in the front and side of the house, but there are planting opportunities. Two clematis frame the doorway, and a narrow strip of poor soil runs along the side. Each spring, this is transfomed by a sea of blue muscari (grape hyacinth)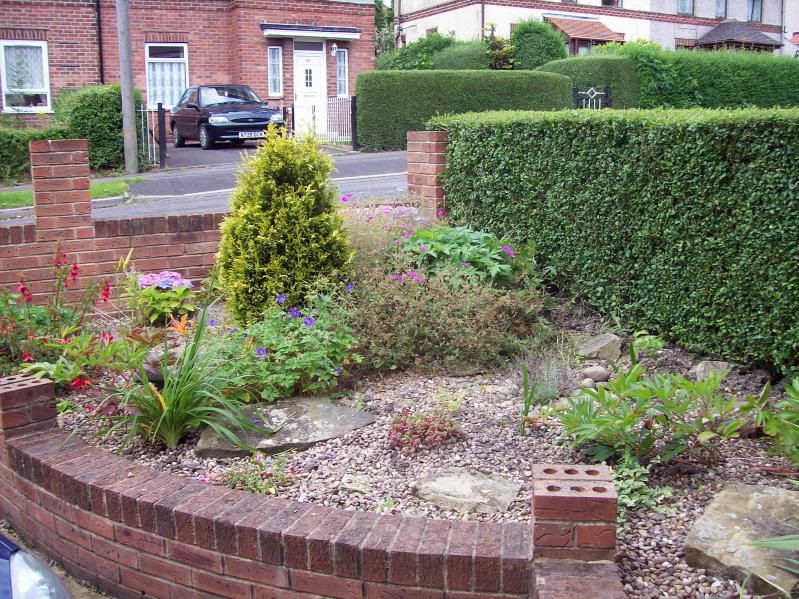 The wall itself is a lovely flowing shape, but the planting isn't to my taste. A cottage garden feel is what I'm after. A large lonicera nitida beneath the window, and a privet hedge add an air of formality.
I am surprised in our first year not to have seen any of my favourite spring flowers, the daffodil. I made a mental note to put this right at the first opportunity. For the time being it will be used as a holding bed. Once we'd pulled out all the straggly heathers and conifers, we popped in hardy geraniums and fuschias brought with us, and a rather large phormuim that had once been the centre-piece of a container arrangement I won a couple of years previously.
I feel a plan of action is required.