The problem with buying a new house is most of the money goes on bills, and any money left over goes into getting the interior right. As a gardener, this is frustrating of course as there is so much you want to do outside. So 2007 was a year for the boys.
The main thing that appealed to us when house-hunting, was the size of this garden. Our last garden had been the size of a postage stamp. Mostly paved, and although we had pots of colour here and there, it was not a place for small children to play in.
Over the winter months, we lost all of the fencing on the west side of the drive to the wind, and while the neighbouring house was vacant, we took advantage of replacing it with a good quality one with concrete gravel boards. We chose a style that allowed the wind to pass through it to help prevent it being damaged by the high winds we tend to get up here.
The old fencing came in very handy though to make a tree-house at the foot of the pine tree in the back garden.
The bed created beside the hut was soon filled with bedding plants the boys had raised from seed and cuttings.
We added much needed colour to the garden in containers and hanging baskets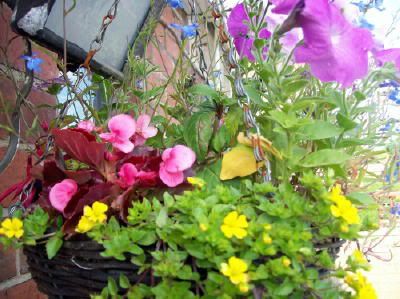 The clematis managed to bloom for us. One purple. I suspect it might be a clematis 'Rhapsody'. The other I think is a 'Nelly Moser'. The latter didn't look very healthy, and there was snail damage to boot.
In the move, we lost Toad's favourite plant, cosmos atrosanguineus (Chocolate Cosmos). This tender plant is treated in the same way as a dahlia over winter, but come the summer is covered in dark glossy brown blooms that smell deliciously of hot chocolate! We managed to find another in a local nursery, and soon we were all enjoying the aroma
Still to find a forever home, our rosa 'Jaques Cartier' bloomed it's heart out for us, a good old fashioned scent to fill the evening air. This rose has lived in this container ever since we bought it in 2003, and doesn't seem to mind one bit about being restricted. This was fortunate for us, as we were able to bring it with us when we moved.
Another rose that made the move with us is rosa 'Pascali'. This one was dug up from our old garden, as it was a gift for my darling Man That Can. He's a Yorkshireman you see, and white roses are their thing...
I guess you could say they've both come home.