The plants will play.
Time for a holiday. I'd checked and double-checked the weather forecast as we planted out as much as we possibly could so in the event of a heatwave, plants wouldn't be forgotten when the neighbour came to water them, and check on the hens.
Just days before we were due to leave for NL, I was gifted a Brugmansia from a lovely lady whose home goes by the name of Moss Cottage. I have never grown one before, but I have dreamed of owning one. This one shall have creamy coloured 'Angels Trumpets' all being well. I planted it into a larger container along with a couple of Calendula's to ward off whitefly.
And a week later,
Everything except the Dahlia's managed to find a home. They've managed to keep their cool though in a relatively shady part of the 'working area' beside the greenhouse.
It's amazing just how much can change in just one week. My neighbour as promised has been harvesting the salad leaves to keep it from bolting. Now though the other leaves are ready to eat.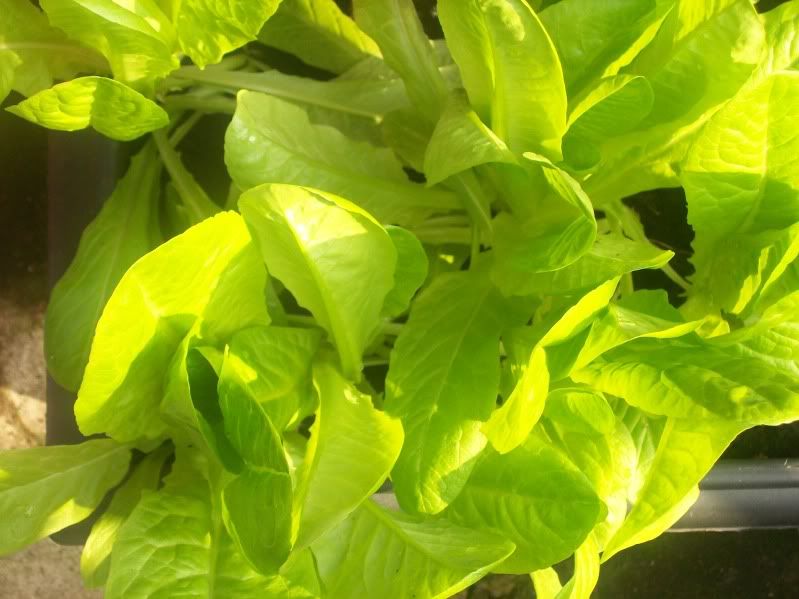 Staying in the greenhouse, we have our second batch of Butternut Squash. We eat tonnes of this stuff, but I've not had very much luck with attempts to grow my own. I get a to the potting on stage, and they tend to just collapse on me.
I took these Dianthus cuttings at the end of last summer, and they were one of the only plants that survived in the shelter of the greenhouse over winter. They have put on enough growth to be planted out now to bulk up. In a normal winter, they should survive outside as they are herbacious perennials.
Talking of cuttings, these little beauties were the ones I took from the bedding plants bought for my hanging baskets back in April. They are well rooted and ready to be potted up into their own containers now, and will flower in as little as 6 weeks. I've also managed to strike some Bidens and Petunias.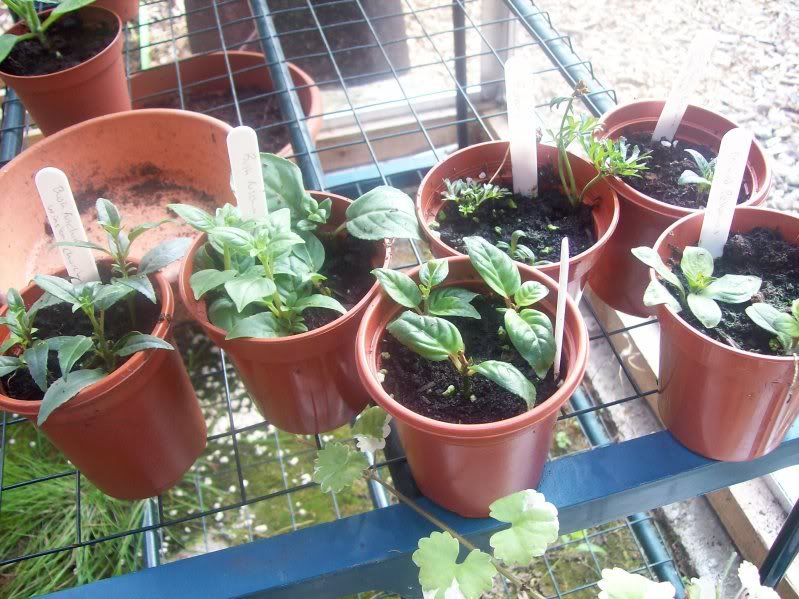 I always like to have some flowers purely for the greenhouse. Here were have some Morning Glory. I've grown various shades of blue before, but these are supposed to be multi-coloured. They've kind of gone mad whilst I've been away and once I'd untangled their twining stems from all the plants in the greenhouse, I set about re-winding them around the string that I'd attached for last years blooms. I also have some to go out into the garden. It'll be interesting to see how each compares.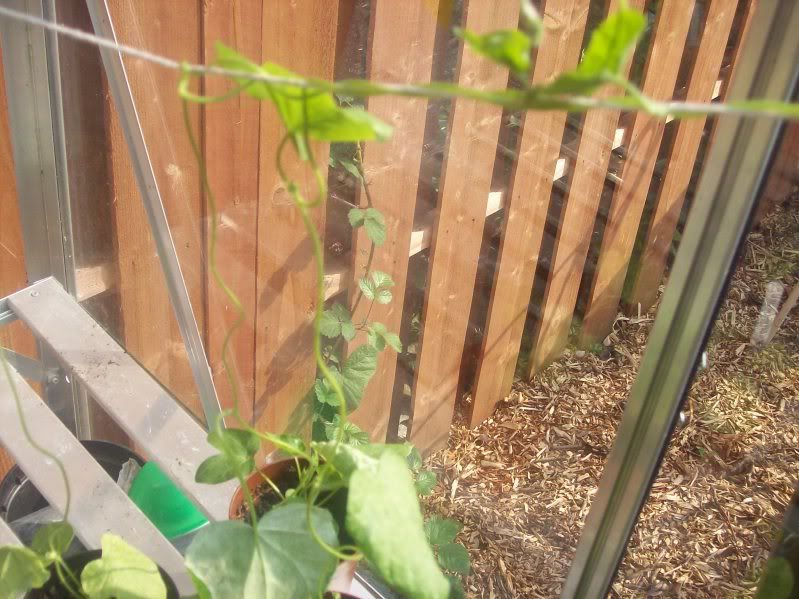 Shall we take a walk and see what's new since our return?
The potatoes have suddenly exploded into action. They have had their full quota of compost now so will just need copious amounts of water and a little feed every now and then.
I had begun to think the carrots had been duds, but here they are now. I have them in a trough atop my work table with some onions as companions. I think the carrot fly's chances are greatly reduced, but I hope the crop will be worth it.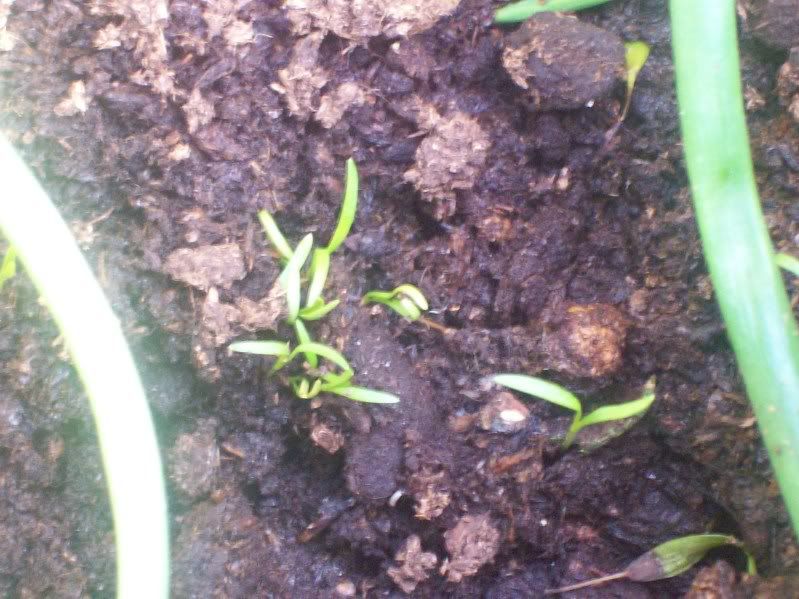 I've never grown Digitallis before, but I'm pleasantly surprised that they managed to pull through the winter to go on and flower so well. This flowering spike has quite litterally popped up in our absence to brighten a shady spot by the compost bin.
Although all parts of the plant are toxic, the bees are having a field day, so all being well we'll have some seeds to spread about for the future.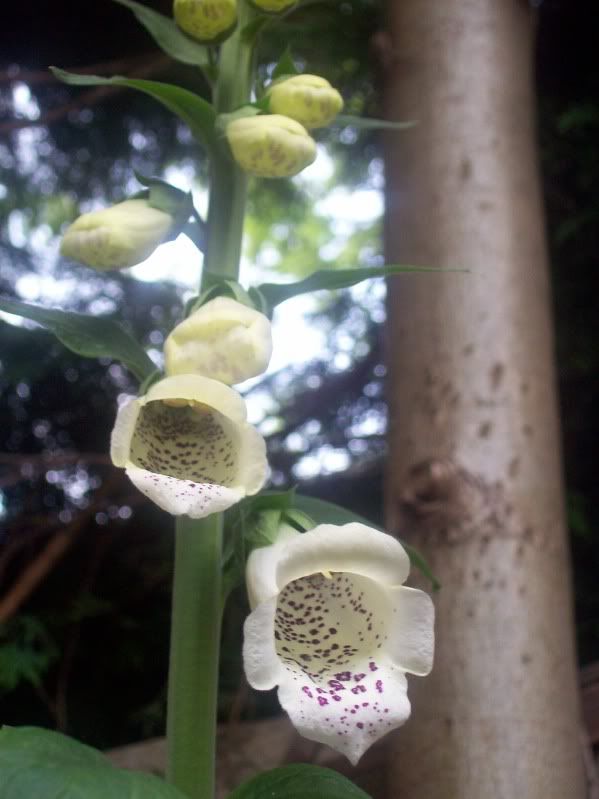 In the same area a pink hardy geranium is set of nicely by what remains of the spring baskets. The violas still have plenty to shout about, and as long as they are trimmed back every few weeks, they will continue long into the coming months.
Following the loss of a mature ceanothus, I managed to get hold of a young plant last autumn, and overwinter it. Planted out just before our holiday, we've returned to a single bright blue flower.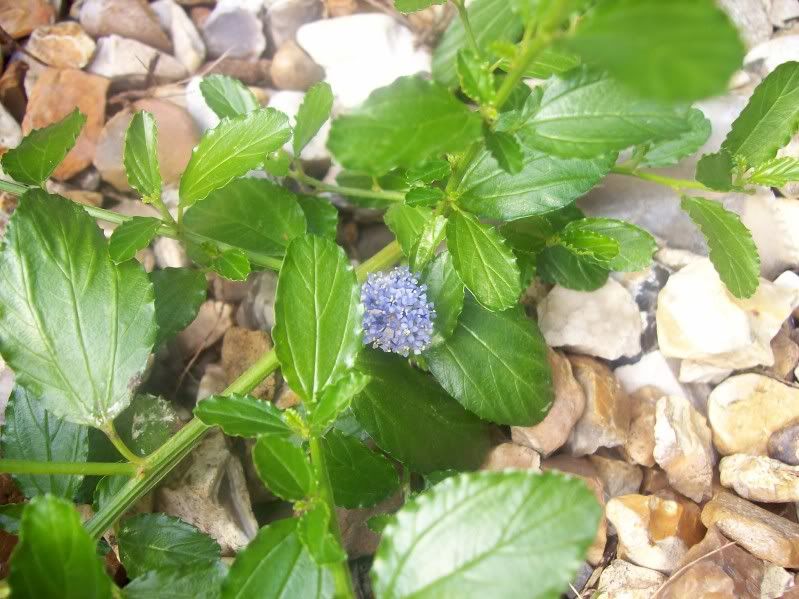 Slugs and snails have always found my garden a treat, and this is no exception. On my return I discovered that one group of dwarf French Beans had been eaten completely while the other group had been next on the menu. The suspect was hunted down and a size 8 metered the punishment. I've been saving the hens egg-shells to crush with the idea of using them as a sharp mulch to try and deter them.